work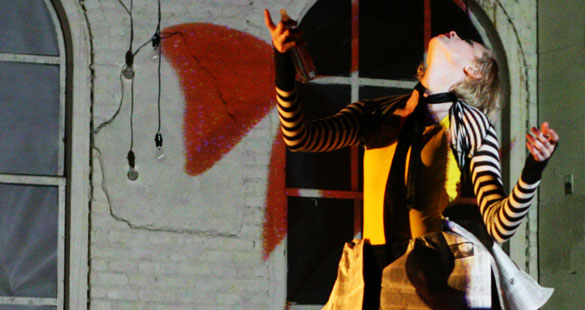 Photo: Vanessa Bunster
EXCERPTS
PROMO VIDEOS
INSTALLATION WORK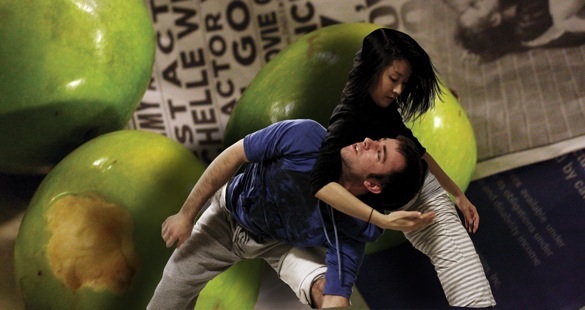 apple heel, flying fish

Transforming the historic Cunningham space and merging the fields of dance, visual art, film, and technology, Apple Heel, Flying Fish creates, blurs, then shatters lines between real and surreal, conscious and unconscious, mundane and extraordinary. An interactive, pre-show installation--featuring Surrealist photography, projection by filmmaker/Merce Cunningham technical director Christopher Young, live music by Korean composer Ji-il Jeon, and surprise guests via skype--opens prior to curtain each night.

Running Time: 90 minutes
nouveau americain

Changes abound in our groundbreaking new presidency and shifting demographic landscape. Nouveau Americain, a collection of vignettes by choreographer Darcy Naganuma and her troupe of virtuosic, international performers, was inspired by this time of renewal and reinvention. The evening culminates a project inviting people from six continents to ''write, draw, or photograph'' their musings on life, liberty, Americans, and the pursuit of happiness. The journey involved meeting and interviewing villagers in the Atlas Mountains of Morocco, children from a leprosy colony in India, hostel receptionists in Ireland, teens at a drug rehabilitation facility in Costa Rica . . . and a multigenerational sampling of people from the U.S., Israel, Argentina, Jordan, China, Turkey, Malawi, Australia, Germany, and beyond.

A team of renowned collaborators joins Naganuma Dance for this world premiere, including cartoonist Edward Koren of The New Yorker and the Grammy-nominated Brazilian Girls' Aaron Johnston and Didi Gutman, who will perform live at the company's benefit performance on November 21. Nouveau Americain also features action lighting/visual composition by Amsterdam-based maestro Pierre Mansire. The rich and varied life/movement perspectives of the cast, the multilingual, genre-hopping musical score, and Pierre Mansire's uncanny ability to transform and distort space will make for an unforgettable gathering.

Music: Aaron Johnston and Didi Gutman of RE:REDUX and the Brazilian Girls
Cartoons: Edward Koren
Action Lighting and Visual Composition: Pierre Mansire
Costumes: Camilla Chuvarsky
Running Time: 90 minutes
UNbridLeD
Bride. This monosyllabic, five-letter word conjures instant images of fancy gowns, joyous celebration, and a life lived happily-ever-after. Invisible but looming is the reality of the cross-cultural violence that permeates the marriage institution. UNbridLeD is an evening-length collection of family stories—an aunt's arranged marriage and ''bride-burning'' in India, my great-grandmother's forced journey to Hawaii as a Japanese picture bride, an American housewife's ironic plight—all delivered in a vibrant blend of contemporary and street dance styles. A series of provocative, interweaving vignettes aims to lift the veil on issues that plague women in the United States and abroad, revealing Western imperialism and the social construction of gender as fuel to the fire. Presented in collaboration with beat poet Eboni Hogan (2007 Nuyorican Grand Slam Finalist), UNbridLeD features an original sound score of music and live spoken word. Audiences will bear witness to what happens when the power that lies dormant within every woman is unleashed with earth-shattering ferocity.
Original text by Eboni Hogan
Running Time: 90 minutes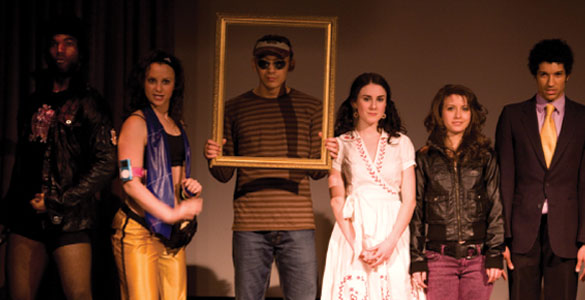 love lockdown: the dating game
Matters of the heart are further complicated when you discover your date is a complete lunatic. Meet the inmates of the Love Lockdown correctional facility, nine seemingly ordinary New Yorkers with juicy alter-egos the evening will reveal. Be ready to laugh, enter a crime scene, share a cell with one of our love crime offenders, and/or meet your match on an inmate date. Come single or joined at the hip; this is one institution you want to be a part of.
Running Time: 15-30 minutes, depending on the needs of the venue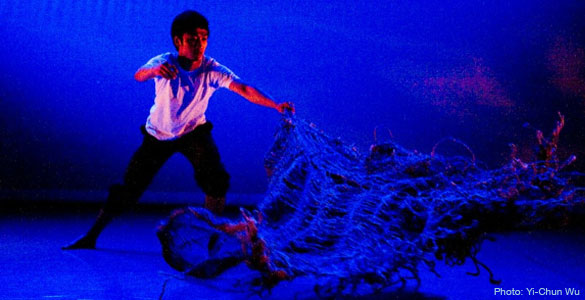 sai
In 1918, Darcy Naganuma's great grandmother Sai journeyed from Japan to Hawaii as a picture bride. Bound by family obligation and duty, she was forced to leave the life that she knew and the poor village fisherman that she loved.
Running Time: 19 minutes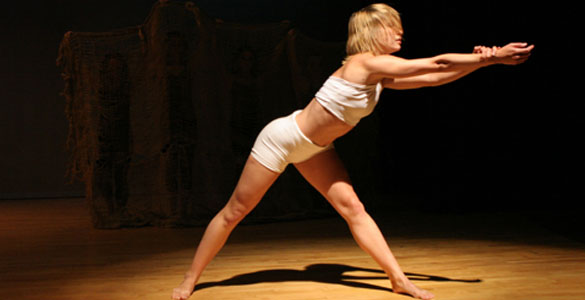 shadow whisper roar
Plunging into a labyrinth of hypnotic sound and dappled shards of light, dancers move through spaces defined and/or shrouded by a shifting panel of weathered netting. In this place of uncertainty, where repressed memories form violent dreamscapes, shadows illuminate and whispers roar.
Running Time: 15 minutes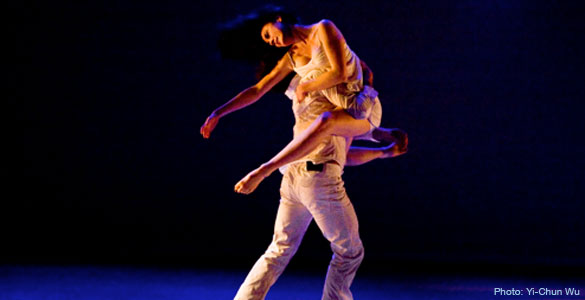 smoke and mirrors
Costumes: Camilla Chuvarsky
Running Time: 9 minutes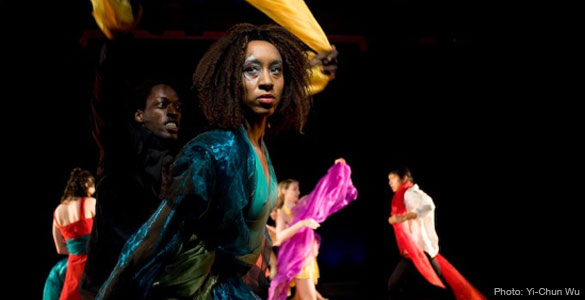 ties
Ties is a colorful, multilayered exploration of the connections that shape and define us. Reaching into the past, present, and future, glimpses into the stories of seven dancers offer a landscape upon which a high velocity, collective voice can speak and paint its truth. Ties illuminates, with humor, verve, and kinetic punch, the human complexity we all possess — a complexity that defies categorization and neat packaging.
Running Time: 15 minutes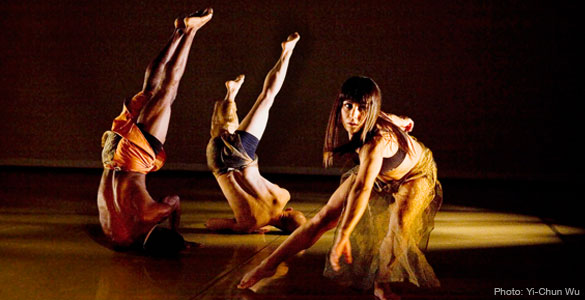 tower
In the Biblical account of the Tower of Babel, the confusion of tongues breaks a united humanity. Tower explores themes of gender, as men and women struggle to relate within and between the sexes.
Running Time: 15 minutes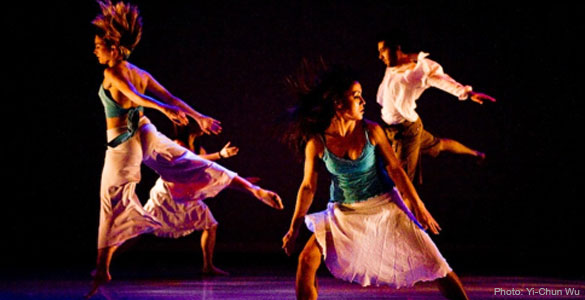 unveil
Off Off Off writes: "Unveil gets back to straight, flatout dancing and some of Naganuma's basic strengths: athletic, almost overactive dancing by dancers passing through the stage in waves of motion, always threatening collision, with driving and diverse musical choices and plenty of partnering interactions."
Running Time: 6 minutes