about*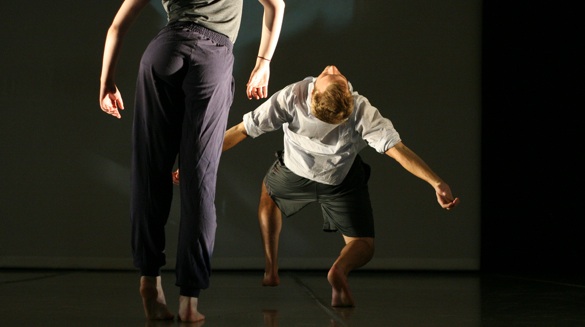 Naganuma Dance is a contemporary dance company based in New York City. Led by Artistic Director Darcy Naganuma, the multi-ethnic, multilingual ensemble is comprised of performers from around the globe. Drawing from a wide range of forms, the company's movement vocabulary fuses elements of release technique, street dance, ballet, martial arts, and Japanese dance. Since its inception in 2006, Naganuma Dance has won praise for the dynamic vision, innovative movement, and evocative visual imagery it brings to the stage.
Dedicated to cross-cultural, interdisciplinary exchange and the synthesis of ideas, contexts, and idioms, the company has collaborated with poets, filmmakers, cartoonists, visual composers, and musicians. It has been selected to appear in the 2011 New Sounds, New Moves program at Joyce SoHo, SummerStage 2010 (NYC), 92Y Fridays-at-Noon, a split-bill evening at Dance New Amsterdam, the 92Y Tribeca Dance-A-Raoke series, the 2006-2008 Battery Dance Company Downtown Dance Festivals, the Earl Mosley Masters of Dance Performance Series, the 2006 Dumbo Dance Festival, and the 2007 and 2008 White Wave Cool New York Dance Festivals, and its full-length shows at venues in and outside of New York City have consistently yielded sold-out audiences.
Naganuma Dance seeks to explore that place where the lines between the real and the illusory, conscious and unconscious, human and otherworldly blur, intersect, and in fleeting pockets of time, disappear. At times, the company employs motion as a medium for reflection and commentary on social realities. Often, however, movement is approached as part of a greater aesthetic drive, at one with the meaning. Audiences are transported into an alternate environment where imaginative props, lighting, and sound create new spaces for invention and play.
Though performance, teaching, and creative collision, members of Naganuma Dance hope to share the artistic process through lines of class, gender, and geography.
Darcy Naganuma is the Artistic Director/ Founder of Naganuma Dance. Born and raised in Lihue, Hawaii, Darcy has wandered across the U.S. and around the world as a dance-maker, performer, and educator/wide-eyed learner. Recent projects have acquainted her with people of all walks of life-- sheep herders in the Atlas Mountains of Morocco, tango aficionados in Argentina, a shoe-maker in Turkey, and biologists at a wildlife refuge in Puerto Rico. Her NYC-based ensemble--launched in January of 2006-- has created a buzz at such venues as Joyce SoHo, Dance New Amsterdam, 92Y, Ailey, 92Y Tribeca, NY City Center, and a 33-floor apartment complex. In August 2010, the company performed signature works under the NYC stars in a City Parks Foundation commissioned SummerStage evening. 2011 highlights include four world premieres--including an evening-length collaboration with former Merce Cunningham technical director Christopher Young, and works for the Harvard Ballet Company and Sounds of a New Century Festival (co-presented by Joyce SoHo and the American Composers Orchestra). Awarded the San Diego Fellowship in 2011, she is also teaching and pursuing her Dance Theatre MFA at the University of California, San Diego.

Dedicated to cross-cultural, interdisciplinary exchange and the synthesis of ideas, contexts, and idioms, Darcy has collaborated with such artists as the Grammy nominated Brazilian Girls (USA), painter Li Huai (China), visual composer Pierre Mansire (Amsterdam, Paris), New Yorker cartoonist Edward Koren (USA), composer Ji-il Jeon (Korea), costume designer Camilla Chuvarsky (USA), Nuyorican Grand Slam Poet Eboni Hogan (USA), filmmaker Linda Brieda (Germany), street dancer Kambi Gathesha (Kenya, Saudi Arabia), and her brilliant/inspiring students (who are really her teachers).

Darcy has led open technique classes and workshops at many of the major institutions in New York City, including Dance New Amsterdam, Broadway Dance Center, Peridance, and the school of the Westchester Ballet Company. She is wildly passionate about teaching/mentoring and has designed laboratory-model workshops/residencies for students around the globe. Her movement influences include elements of postmodern release technique, underground hip hop/funk styles, gaga, contemporary ballet, martial arts, Japanese dance, and Forsythe-based improvisation. She is a devoted student of movement practice emerging from the lineage of Stephen Petronio, and has appeared in the work of Pavel Zustiak (Palissimo), Yolande Snaith, Doug Elkins, Ron K. Brown, Alwin Nikolais (directed by Alberto del Saz), Lara Luzim, Ashlee Vilos, and Christopher Huggins (Opus Dance Theatre), among others. Darcy holds a B.F.A. and Dance Education certification from the University of Utah, where she was a Presidential Scholar and recipient of the Interdisciplinary Arts Scholarship. She has appeared in commercials and dance specials on both the MTV and VH1 networks, and was invited to perform at the UN Headquarters in May 2007.

Darcy's current research interests include interdisciplinary/cross-medium creation; multi-sensory, embodied practice; service learning in higher education; site-specific collaboration; community inclusive art-making; and telematic exchange. Embracing creative collision and global community, Darcy hopes to continue her life-long pursuit of creative adventure--through lines of class, gender, and geography.
Kate Gyllenhaal
Edward Leung
Earl Mosley
Jennie Quon
Eddie Stockton